Park Facilities are Currently Closed
Due to the uncertain nature of the COVID-19 situation, our Gift Shop, Patio, John Beedle Volunteer Centre and Washrooms are closed until May 31st (and perhaps longer).  The Park gardens are always open for those who may want to walk through although we ask that you follow public health guidelines of social distancing.  Please note that snow and ice have not been cleared on the paths.
The Park office is currently closed and will not open on a full time schedule until health concerns regarding COVID-19 are removed.  To book a wedding or photography session in the garden, rental in the John Beedle Centre or for information, please email stalbertbotanicpark@gmail.com.
'Winter Coffee' for volunteers is cancelled until further notice.  Volunteers will be able to work in their areas once the soil is workable and if they are practicing social distancing according to Alberta public health recommendations.
We are always looking for some extra hands to help maintain the Park and work in our Gift shop - for information on volunteering at the Botanic Park, please visit Volunteer Opportunities
Gift Shop & Patio    
Our Gift Shop, patio and washrooms are now closed.  Updates on opening will be posted here.
Mother's Day Rose Sale      
With closure of our facilities until May 31st, our 24th Annual Rose Sale Event will likely not take place on the weekend of Mother's Day.  Roses are growing and doing well while we form a plan for the sale of roses via our website that will fall within the government guidelines of personal safety for volunteers and our customers.  Please check back for further information and a list of our available roses.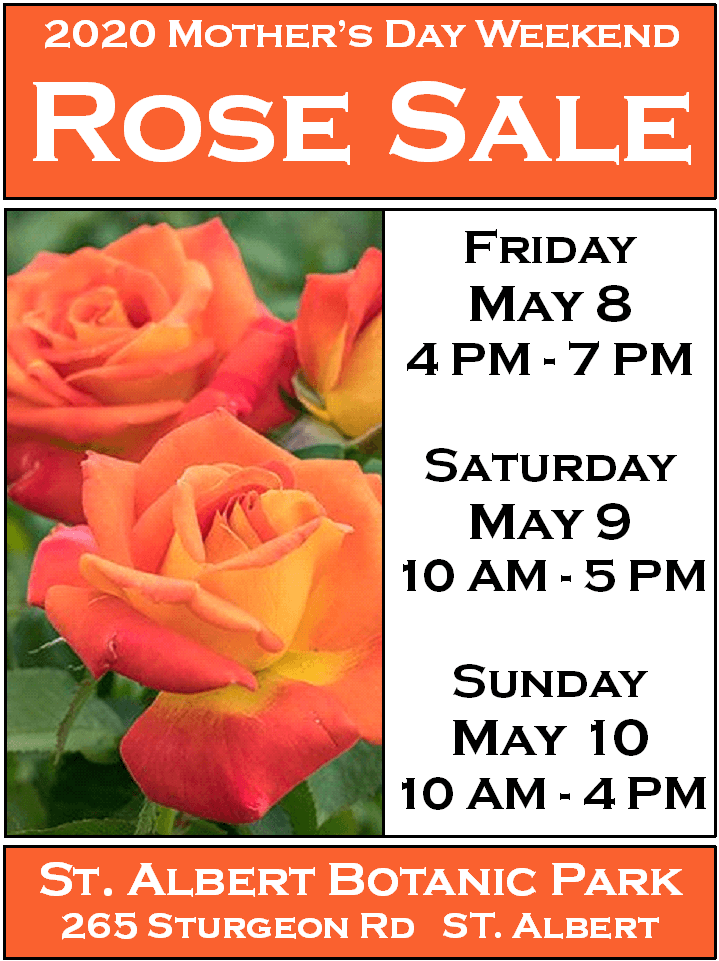 Thank You
Thank you to everyone for their support of the Park by purchasing plants, roses and items from our Gift Shop during the summer and in October for our Christmas in October event.
The Park is a non-profit charitable organization independently operated and maintained by volunteers and all funds raised from plant or giftware sales and garden rentals go directly to the gardens for operation and maintenance.